Every summer, there is a new list of must-have items coming up and we all rush to upgrade our wardrobes so we can stay up-to-date with the latest trends and look super chic. For summer 2021 we suggest the following items:
Oversized Straw Hat
White Crop Top (with regular or puff sleeves)
Eye-catching Sequin Dress
Fashionable Bikini Let's have a closer look at those 4 items listed above and see how we can style them with the clothes we already have in our closets.
1. Straw Hat
Necessary sun protection and also a very fashionable accessory that will take your look to the next level, a straw hat is number one on our list of popular summer items. Wear it with your favorite summer dress, a jumpsuit, or a casual jeans/shorts + T-shirt combination. Keep it simple or add some floral accessories to make your style more personalized and unique.
2. White Crop Top
Another must-have summer item that you will find very useful this season. The white crop top will look fantastic with your summer tan and chic boho-style accessories. The white crop top will be suitable for many occasions this summer – both during the day and at night. You may wear it with blue jeans, capri pants, or a colorful maxi skirt. For a sophisticated evening look, try matching it with elegant black pants and high heel sandals. Add a chic clutch to the mix and you are ready to go.
3. Sequin Dress
Inspired by the vibrant music culture of the '70s and the world-famous Studio 54 opened in 1977 in New York City, disco fashion is back in full swing this year. Sequin dresses, tube tops, sheer tops, maxi skirts, and dresses with long thigh slits, ball gowns, jumpsuits, shiny pants, polyester shorts, and platform shoes are all key elements of the disco trend. The keyword to this fun fashion trend is GLAMOUR – be fabulous, be chic, stand out from the crowd, and don't be afraid to shine. Disco fashion picked up a lot of elements from the 1960s, but added some new elements and unique twists; it was all about freedom, fun, and expressing female and male sexual liberation.
Back in the day, the dance floor was a fashion playground and everyone was putting a lot of effort to look their best while going to the nightclub. Below you can find some more inspiration if you are interested in this fashion trend and would like to try it out this summer. Sequin dress can be replaced with a stylish jumpsuit or a crop top + loose pants combination. Have a look: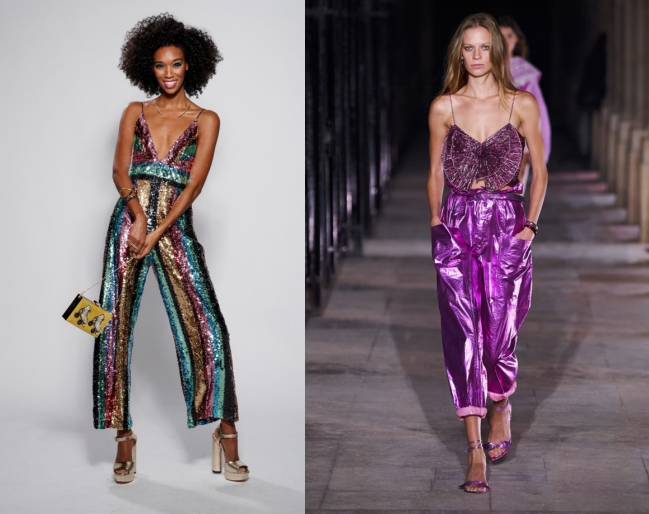 4. Chic Bikini
The last item on our list couldn't be more important. A fashionable bikini is one of the must-have summer items and you should have a couple of different styles and colors in your wardrobe so you can always look super chic on your vacation. Don't forget about some chic accessories such as sarongs and cover-ups to create a unique and beautiful beach/pool look. Which item from our popular fashion pieces for the summer 2021 list is your favorite? Leave a comment below!