Bows are charming and fun! Whenever I see a bowknot, I always feel giddy like a child who delighted. Bows are lovely to look out for, so it`s no surprise that it`s a common sight among clothing designs. However, if you want to stand out with a bowknot dress, you would like to look for something more unique yet modern. Here are some of the best and most popular bowknot dress designs you should check out now!
1. Ribbed Bow-Front Maxi Dress
Look elegant with a ribbed bow-front maxi dress with a small opening or slit in front. It`s a versatile yet modem dress that can highlight your natural beauty. The simple bow design adds a little bit of fun to the dress, but its overall elegance is perfect for formal dinner dates and events.
2. Elegant Gray Cut-out Bowknot Dress
Feel young and pretty with an elegant gray cut-out bowknot dress. It has a preppy and lovely look to it, that`s great for summer and fall. You can wear this casually or for something that requires you to be a bit more well-dressed.
It`s a stunning outfit! You can accessorize it with a three-layered necklace and a pair of white or navy blue loafers.
3. Faux Leather Bowknot Dress
Look sexy and edgy with a faux leather bowknot dress. It`s an exotic dress that you can wear for a formal evening event. But, unlike other bowknot dresses that look cute and fun, this dress from Forever 21 will make heads turn with its stunning design.
You can wear a pair of stilettos or black pumps with it, and a bejeweled soft clutch.
4. Nature`s Colorblocked Maxi Dress
When you think of bows, you would often think and bright colors. However, Anthropologie`s color-blocked bow-tie maxi dress features red and pink cotton with a back zipper and flounced hem. Its simple but pretty design is reminiscent of the attire one usually wears in a province or a farm. It`s fresh-looking and very timely for summer.
5. Sleeveless Bowknot Shirt Dress
This sleeveless bow shirt dress looks so suitable for the warm weather. Its bow design adds a sultry touch to the outfit. You can wear it with a pair of silver stilettos for formal wear, or you can wear strappy sandals for a more laid-back look.
6. Prim and Proper with a Bow Wrap Dress
Look like Princess Diana with a soft and feminine bow dress. It has a subtle bow design that looks simple but completes the beautiful style of the dress. With this kind of bowknot dress, you can wear gold, silver, or pearl jewelry to complement the classy look.
7. Structured Bow Dress
Look like a royal with Gant`s check structured bow dress that features a fit-and-flare silhouette and viscose cotton blend. It has a prim and proper look that`s fitting for business meetings and events.
You can wear this with a pair of Moccasin or oxford shoes. With its timeless design, it`s an excellent investment for your wardrobe.
8. Bow-Detailed Ruffled Cotton Dresses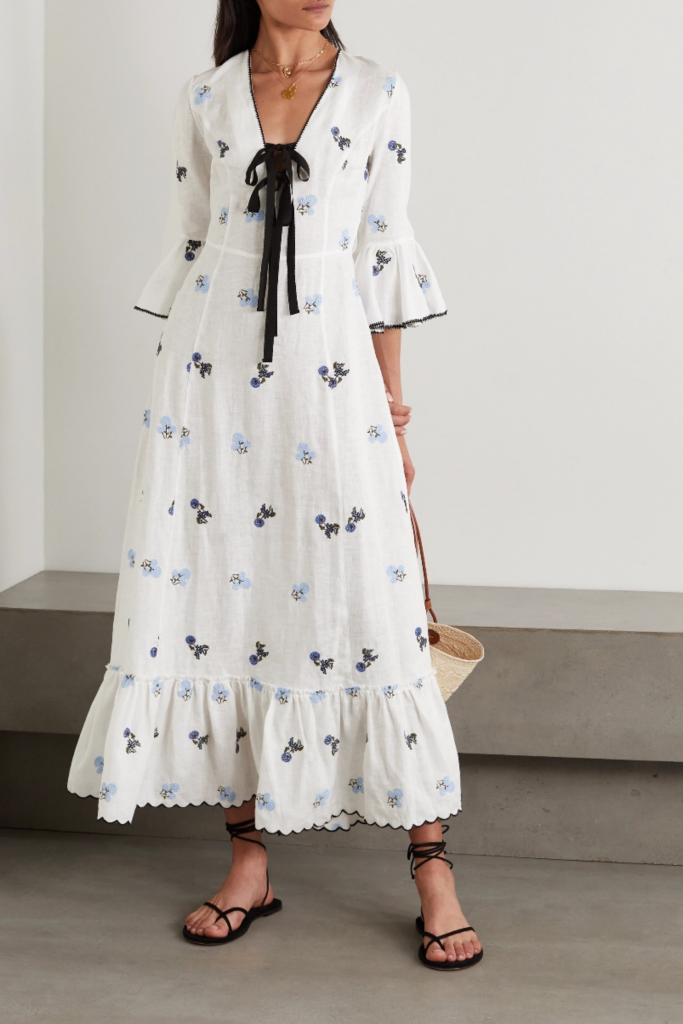 Airy and flowy dresses are trendy right now with their refreshing and lovely designs. These embroidered and ruffled midi dresses with bowknot designs are most popular in Asia, but it has been trendy in the West, especially during spring, summer, and fall.
Bow styles are often associated with cute and fun things, and who wouldn`t want to look lovely but elegantly and fashionably? These bowknot dresses are currently trendy not just this season but for the entire year. With these newly-designed clothes out in the market, it sure is tempting to go online shopping!