Boots are, without a doubt, the perfect shoes for winter. Whether they are knee-length, mid-thigh, ankle and in different materials, such as leather, velvet, suede, they are always chic.
The focus of this article are the super sexy thick heel short boots. For the impetus they give to the figure and for how they mark our silhouette, these boots are one of the most feminine footwear. They are in fact capable of enhancing the femininity of the wearer, thanks to their particular line.
The basic comfort of the short boot is that it lends itself as the best substitute for décolleté on cold and rainy evenings. In fact, they wrap our feet up to the ankle (or even slightly higher) and protect them in the coldest hours.
They are ideal with knee-length skirts and tight-fitting sheath dresses. They are also the perfect allies for parties, cocktail parties and metropolitan events. Small care: wear them with nude tights, to enhance the shape and highlight that of the leg.
But let's see now the best models of short boots that are in vogue right now!
Sock Boots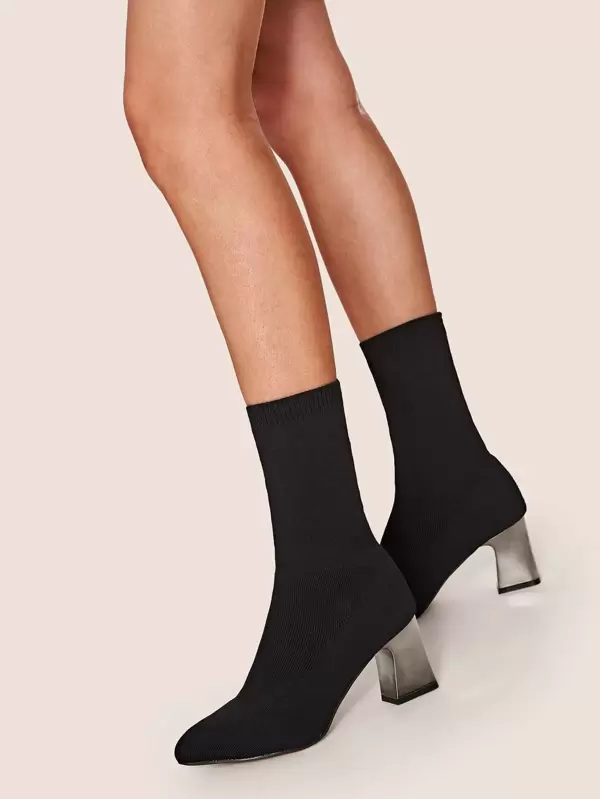 We have already seen this trend last year. Sock boots are now a very popular model. They are worn more and more often. They can be worn both for informal situations and on more elegant occasions. Match them with a long or midi dress, under a suit or with a pair of jeans. Sock boots will also look great with a formal dress. You can match them with the color of your dress, or create a strong contrast.
Buckled Boots
Among the 2021 winter short boots, we find models with buckles which are ideal of the office. Precisely for the buckled detail, they are reminiscent of a high-heeled brogue. The brown leather model is perfect for both leisure and occasions where it is preferable to maintain a certain formality.
Lace-up Boots
Speaking of lace-up short boots, I refer to all those models that have laces in the front. In the same category you can therefore find heeled combat boots, perfect for a casual outfit, and boots with an elegant and original design.
Animalier and Decorated Boots
Among the fashionable short boots for winter 2021, there are also those with animal print. Leopard, zebra, snake, pony, or printed, whatever your tastes you will certainly find what suits you. It is an original shoe to choose whenever you want to have a fashionable shoe with a strong personality on your feet.
If you want a winter shoe capable of attracting all the attention, then what is right for you is a decorated boot! Do you love to wear something colorful even in winter? A velvet short boot with multicolor flowers is perfect to light up even the most serious look. To be able to enhance it to the maximum, combine it with a total black look and let it be the protagonist!
Texan Boots
If you like this genre, winter 2021 is the right season to indulge yourself! In fact, among the must-haves in the coming months we find the Texan short boots. A pair in black or white is arguably more versatile.