How to choose comfortable clothes to wear at home during Coronavirus
With most of the world still fighting the pandemic and with travel restriction still in place, there is no better place than home. Today we prepared a list of our favorite outfits to wear at home during Coronavirus.
Have a look at our styling ideas and personalize each look to your own needs. Are you ready?
1. Stylish tracksuit
Definitely our choice number one, a comfortable, laid-back tracksuit doesn't really need a recommendation. It's cute, it's easy to wear, and you can always spice up your look by wearing a sexy top or combining your hoodie with shorts instead of sweatpants. The choices are limitless. When it comes to a color palette, we recommend powder pink, light grey, energetic yellow, or fresh and fashionable mint (this color will be one of the hottest trends for Spring / Summer 2021 so make sure you incorporate it in your wardrobe).
2. Comfortable dress
Staying at home doesn't mean that you can't look stylish and feminine. Our second favorite look is an A-line or skater dress that you can wear on its own or with a light cardigan. Choose something fun and colorful so you will feel happy and uplifted anytime you look in the mirror. Recommended colors: red, green, black and white stripes, florals.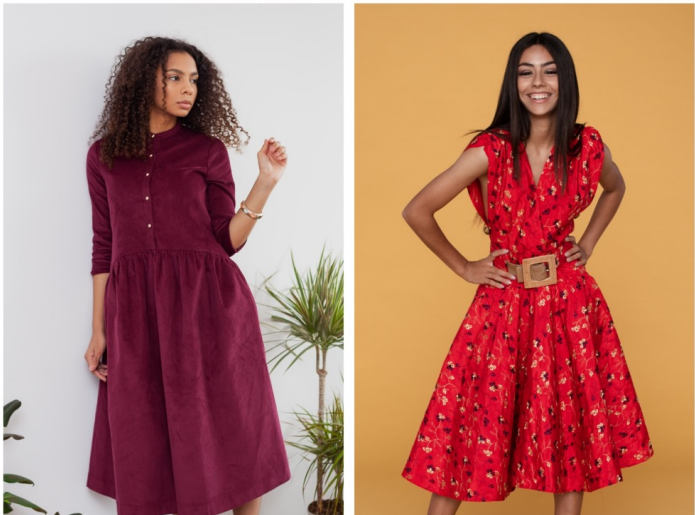 3. Shorts with a sweater
Comfortable shorts combined with a sweater – we can't get enough of this look. Choose something loose and made of natural fabrics so your skin can breathe. Opt for neutral, earth colors or a soft, pastel look.
4. Leggings with a top
This classic set is great for doing yoga, cleaning, cooking, reading, and so many other activities as well. Choose an interesting print and combine it with a plain T-shirt or do the opposite: colorful T-shirt with classic black or dark grey leggings. Very comfortable and cool home look.
When you need to go out, this look can be easily transformed into a stylish everyday outfit just by adding suitable accessories such as an eye-catching metallic backpack, fashionable sneakers, and a pair of colorful glasses. Have a look at the picture above!
5. Pants with a blouse
If you are working from home and need to talk to people via Zoom or attend online events, make sure your outfit suits the occasion. Instead of wearing something very casual, opt for a comfy yet elegant home office set: pants and an elegant blouse. Working from home doesn't mean that you need to look less professional so make sure your hair and makeup are done as well. Choose a natural yet polished look. Don't forget about other details such as nails and bright lipstick. Light pink or orange will be a perfect addition to your "work from home" spring look.
As you can see there are many interesting outfit options if you want to achieve a fashionable yet comfortable home look. Depending on your activities and your mood, you can choose a different look every single day and you can still have a lot of fun while dressing up in the morning. Time spent at home doesn't need to be boring and the clothes we are wearing have the power to affect our mood, so choose wisely!