Summer is always eagerly awaited as there are lots of fun activities to do in this season. Swimming is one of the most popular activities in the summer. The hot weather makes this activity a refreshing thing not to be missed. Even if it's just a relaxing swim at the beach or the pool behind the house, your appearance must still look fashionable, girls. Because this is the right time to show your sexy side by wearing your favorite swimwear.
If you are still confused about what kind of swimwear to wear, below are the 5 best recommendations for the sexiest swimwear that can make you look charming during the summer. Shhh, some are inspired by Hollywood stars, you know!
One Shoulder Bikini
You can look minimalist but still look sexy by choosing a basic colored bikini like Kourtney Kardashian. Even though it looks minimalist, this one-shoulder top design looks unique and comfortable, which makes your appearance even more different and stylish. If you are going to copy this style, make sure you choose swimwear with glitter material to add a luxurious impression to your appearance.
Sexy Transparent One Piece Swimsuit
It's not impossible to look sexy with one-piece swimwear. You can choose one-piece swimwear made of transparent material to make you look sexy while maintaining comfort when wearing the swimwear itself. The one-piece design always brings an elegant impression and the transparent material will make your appearance look sexy and bold. Choosing this swimwear means that you are ready to show your classy side!
Bright Yellow Bikini
If you like a bikini with a simple and classic design, you can copy Audrina Patridge's style with this bright yellow two-piece bikini. This swimwear design looks sexy and the bright yellow color adds a cheerful impression. This outfit is perfect for a vacation to the beach with your friends this summer. And as you know, bright yellow is a popular color this year, so apart from being sexy, your appearance will also look trendy. Don't miss it, complete your appearance with sunglasses and a hat.
Animal Print String Bikini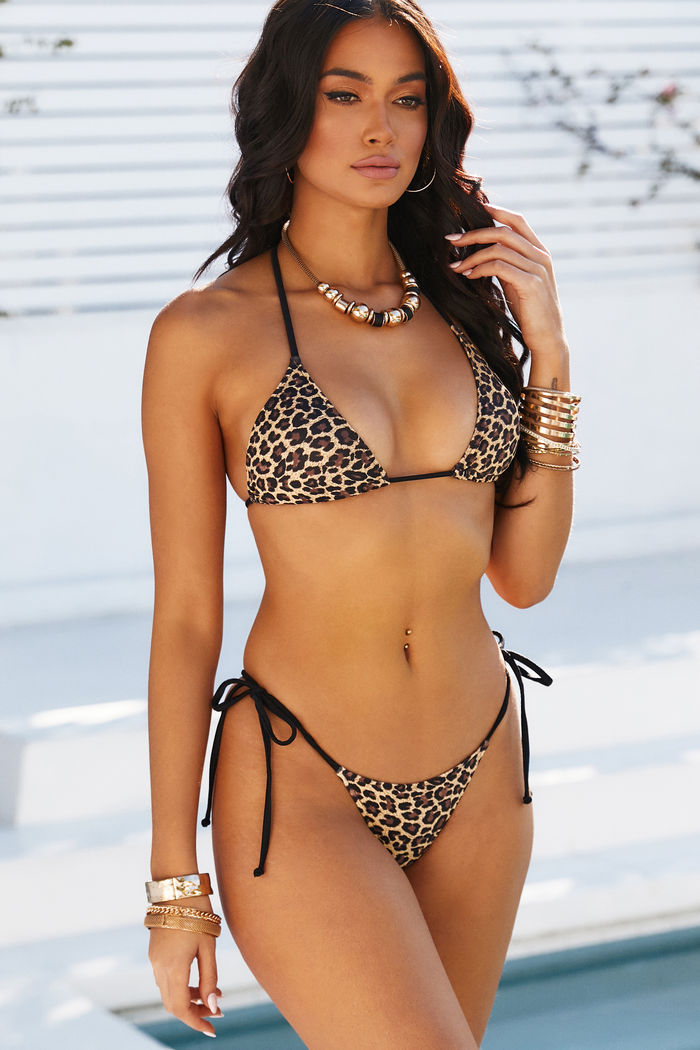 The string bikini is the right choice to make your appearance look sexy and stunning. For summer, try choosing a string bikini with animal print. Besides looking unique and quirky, this swimsuit is also suitable for those of you who want to look striking but still elegant. There are quite a number of animal patterns that you can choose from, such as leopard, zebra, cow, and snake.
Bandeau Bikini
The bandeau bikini has become one of the most popular bikinis to wear this summer. For those who are flat-chested, you can try this bandeau bikini to give the illusion of more volume to your chest. If you are bored with the strapless design, you can steal Bella Hadid's style when she wore a green bandeau bikini some time ago. The additional ring accent in the middle makes Bella Hadid's appearance look very stylish and seductive.
So, are you ready to show off your sexy style by choosing the swimwear that best suits your taste? Don't forget to choose comfortable swimwear to make you more confident!