Did you know that a crop top used to be associated with swimwear back where there was fabric rationing in the 1940s? Nowadays, regardless of the time or occasion, you can wear various crop tops that you can style however you want.
It`s primarily famous during summer when the weather is warm. Though not necessarily for summer, you can take a look at some of the gorgeous crop top sets you might want to try out!
1. Floral Corset Bustier
Corset Bustiers are another form of crop tops, but with a twist. It`s most popular among Instagram influencers, with its sexy and feminine design.
You can wear it with a pair of leather pants for that chic and edgy vibe. A pair of leather boots or black pumps will match this outfit nicely.
2. Houndstooth Crop Top & Skirt Set
This gray crop top and skirt set reminds me of a cheerleading uniform. It`s a lovely color that is easy to accessorize. You can wear a pair of white sneakers and put on a Michael Kors floral watch for a summer-ready look.
3. Black Buckle-Strap Crop Top Set
Forever 21`s black crop top set features an edgy look with its square neckline, buckle straps, and matching shorts. It`s a great crop top set because you can either wear it casually or to something more formal if you add a gray or black blazer and wear a pair of pumps. So you can say that this is more of a dressy set.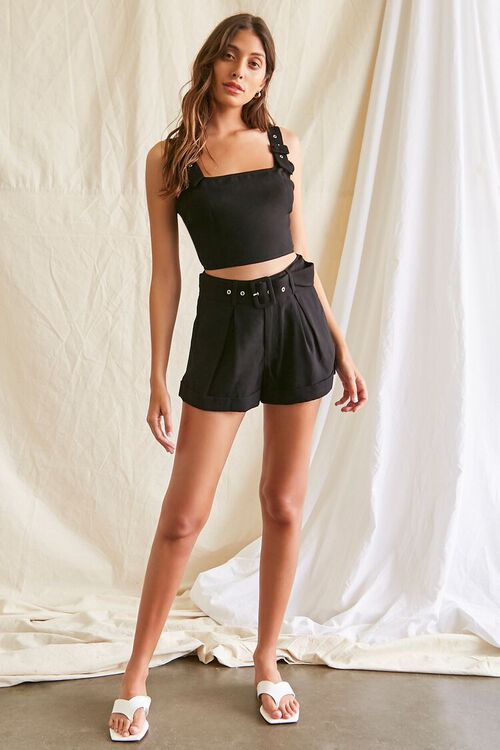 4. Cropped Cami Set
Another cute crop top set is from Forever 21. A white crop top with spaghetti straps is easy to style and wearable even when you`re at home. If you want to wear this to date, add a pair of white sandals, and pearl jewelry for a chic look.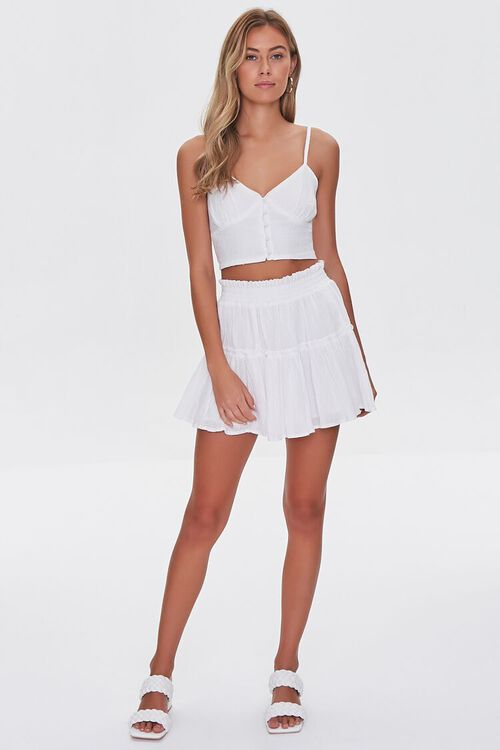 5. Innocently Beautiful in A Tie-Dye Crop Top Set
Bandana-type crop tops were popular in the late 1990s and early 2000s. It has become aesthetic to wear a bandana-type crop top with a pencil skirt with a slit. If you have a slightly bigger chest, this style is significant because the extra V-line fabric at the bottom of the top provides additional protection whenever you move.
6. Lace-Up Crop Top with Skirt
Wear your crop top like a dress. Create a continuous flow of fabric from top to bottom while still showing your midriff with Vero Moda`s lace-up crop top. A
t first glance, you`d think the model is wearing a dress, but it`s actually a crop top and a skirt with a matching design. If you`re a bit hesitant to wear crop tops but want to start gaining confidence in wearing them, you can start with a style like this since it looks a bit more conservative.
7. Plaid Round Neck Top Set
Checkered prints have always had a preppy vibe to them. Show off your abs and legs with Papaya Clothing`s plaid round neck top and skirt. It has a gorgeous blue and gray color. Regardless of whether you`re short or tall, this will look very flattering on you because it`ll elongate and highlight your legs and show off the abs you`ve been working on.
8. Sexy Lace Zip-Up Crop Top
Want to take it to the next level? Look stunningly sultry with a lace zip-up crop top and skirt. It`s a daring outfit that you can wear for an evening party. A pair of black or gray stilettos or pumps will match this edgy outfit. If it`s pretty chilly outside, you can put on a leather jacket or structured blazer.
Have you hopped on the trend? These crop top sets are popular among young adults. They`re easy to accessorize and very appropriate for warm weather.