Let's admit it. We all want to look our best and feel good in our own skin. Having beautiful, healthy hair is one of the attributes associated with femininity and it's one of the most important aspects of our image.
Maintaining a proper hair routine takes quite a lot of time. With our busy schedules, we want to look good but without spending hours in front of the mirror styling our hair in the morning or before an important event/night out. Relax!
There are several hairstyles that are very easy to do and don't require a lot of time or any special skills. Let us show you our favorite looks below:
1. High Ponytail
One of the most popular hairstyles for all ladies with long hair. It is perfect for both every day and for a special event. To achieve a sleek, shiny look, use suitable hair products and a straightener if your hair tends to be wavy.
For all girls with curly hair, we recommend a more natural look – keep your locks as they are, don't straighten your hair! Just make sure you use an anti-frizz serum and add some extra gloss to your hair to make it look more attractive.
This type of hairstyle allows you to go throughout a day doing various activities without worrying about your look! Cute, comfortable, and very easy to do.
2. Braids
Braided hair is an excellent choice if you are looking for something more unique and want to spice up your everyday look. While some braided hairstyles require more time and effort, others can be done in a couple of minutes.
If you are not sure where to start, watch some online tutorials or ask a friend for help. Once you learn how to braid your hair, you will see how fast and simple is to create a hairstyle like the one below: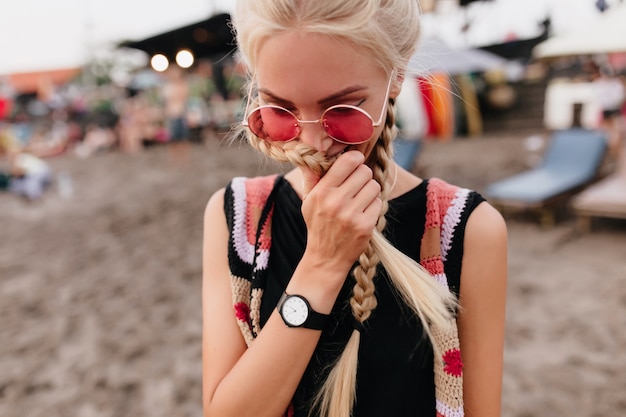 3. Side Parting
Our third favorite hairstyle is also super easy and attractive. All you need to do is put your hair to one side and create a couple of seductive large waves. To feel more comfortable during the day, you can secure your hair with a pin.
As you can see many hairstyles don't really require a lot of time or complicated accessories and you can easily prepare them in a couple of minutes. Enjoy your new look!