A splash of both summer and winter, autumn dressing should reflect a slow departure from very light summer clothing, slowly but surely towards embracing the heavy clothing of winter, methodically not to induce culture shock. The dressing here is therefore neither too heavy nor too light. But early autumn more closely bordering on summer, sees the adorning of much lighter outfits as opposed to the increasingly heavy as one moves to late autumn and crosses to winter. The fashion sense is not rigidly specific for as long it reflects the departure from extreme heat.
For ladies, outfits as simple as white t shirts with jeans, high waist trousers with white cotton blouses, short dresses with leather trousers, slip dresses with suede jackets and blazers with loose jeans are most preferred.
For the footwear, ankle boots such as zip front ankle boots and snake print ankle boots. Many other types are befitting of this season and include pony hair skate shoes, sail pural court shoe, suede knee high boot. Feminized combat boots are stylishly unique. Sandals also heavily come in handy here. Sandals are ideal because they expose the feet to the cool air and provide a good opportunity for fresh air of the feet. Should the cold exceed expectation, a combination of sandals and socks can come in handy. They could go with ankle socks, knee high socks, calf socks, thigh-high socks, crew socks, mid-calf socks, quarter socks.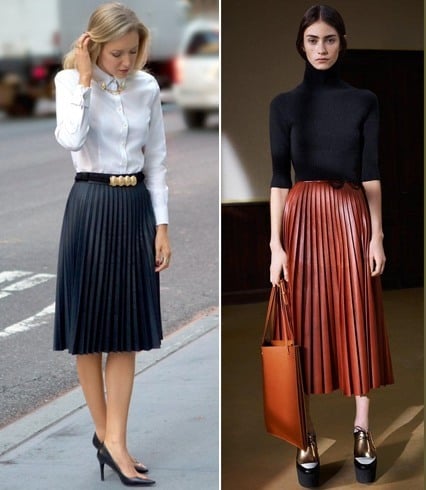 Leather shoes and skirts is a perfect combination for autumn and is not just casual in appearance, it strikes a semblance of formality and serious business can be transacted in the above dressing. It can be accompanied by a trench coat and matching scarf and cap. Here the colour combination is key.it becomes even better when you add to it a utility jacket and mules. Kitten heels and pant suits are a potent fall back plan in the season of falls .Either way, simplicity is key and one should make sure not to be too cold or hot striking a balance between the two defines the enjoyment of the two weeks.
Open toe booties combined with cropped sweaters and leggings are perfect for the young and middle aged. The older population can enjoy light scarves with jeans trousers tucked neatly in boots. Suede's and zip front ankle boots are instrumental in the completion of the perfect image.
In case of travel during this period, it would be prudent to pack the following, leggings and tights, a hat or cap, jeans, a jacket or coat with pockets, scarves, day dresses and slip skirts, a matching umbrella and closed shoes. This would be mostly because of the unpredictability of the weather in autumn, which must be faced with conviction of the possibility of the overturn of natural phenomena.
To warm up in the middle of the chilling autumn, turtlenecks and neon roll necks can be used. Scarves and hooded jumpers can be used as well. For the warmth of the legs, calf size, mid-calf size, or thigh-high socks can be used with either open shoes or closed. Autumn comes with an air of simplicity and proper mixing of attire on a light note can birth many desired effects.