The euphoria of summer is getting more and more clear. Well, looks like it's time to seriously think about what to wear this summer!
Summer always brings a passionate and cheerful vibe. This is the time to take a vacation and spend time with loved ones. But there is something else that is always interesting to look forward to in the summer. Of course, summer fashion. Every year the style of summer dress is always changing. Sometimes the styles are right as predicted, but sometimes there are styles that are unpredictable but worth scooping up. Things like this actually make summer fashion trends even more interesting to wait for.
In this season, the fashion enthusiasts must have been ready to show off their cool styles. You don't want to miss it. Let's take a peek at 3 styles of summer dress that will be a trend this year. These 3 dresses are predicted to take over the fashion stage in the summer of 2022!
The Timeless Floral Dress
Floral dresses are one of the most sought-after types of dresses, especially in summer. The timeless motif will always look adorable from time to time. Besides, you will look more beautiful and feminine in this outfit. Even though it has become a trend that repeats itself every year, it seems that people are not tired of wearing floral dresses.
For summer style, you can wear floral dresses in bright colors. A V-line or off-shoulder collar will make you look chicer. Maxi dresses with high slits are also catchy for you to wear on special occasions this summer.
A few tips. If you have a plus-size body, you can look for a dress with a small floral pattern. It would be better if the pattern is not too dense or spaced. If it is too crowded, the clothes will look full and make your body look bigger.
The Cutout Dress Is The Hottest Trend
Think of something unique and iconic, one that will get all eyes on you. Yes, cutout dress. This style has actually become one of the main trends of the past year, with slashes strategically removed from the front, sides, or back to show off the perfect amount of the wearer's skin. Clothing with this cut does show skin, but still gives the impression of not being too revealing, at the same time it gives a chic impression as well.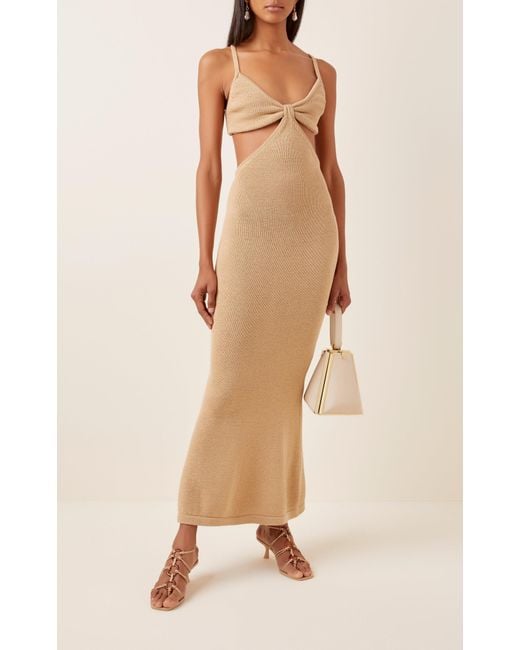 Although identical to a sexy yet elegant design, you can still wear a cutout dress with your own style. Try wearing an oversized cutout dress, pair it with a brightly colored tube top and sneakers. Your appearance will be more casual and youthful for this summer.
Cutout dresses will still be a popular global fashion trend this summer. So don't hesitate to wear your cutout dress and show them how stunning you are!
Any Dress As Long As It Is Bright Yellow
Bright yellow has been predicted to be one of the most popular colors this year. Indeed, entering the spring and summer of 2022 is the perfect time to experiment with bright colors to support any activity. If last year's fashion trend was dominated by pale yellow, then in 2022, classic sunlight with a touch of neon-like radiant yellow will take over the trend.
The bright yellow color itself is enough to make you look more pop out, so you can more freely choose the dress design, as long as it's bright yellow. You can play with ruffles or asymmetrical pieces to make your appearance even chicer. Also, make sure the dress material you wear is comfortable and cool to wear in the summer.
So, from the three summer trends above, have you decided which one to wear?